Tree Trimming & Pruning in Bowling Green, KY
Tree trimming services and removal jobs can quickly become dangerous if you do not have the proper training to take them on yourself. Therefore, hiring experts in stump removal in Bowling Green, Warren County, Edmonson County, Simpson County, and Allen County, KY is extremely beneficial to get all of your jobs done safely and efficiently. Lamb Tree Service has a well-earned reputation for high quality in the Bowling Green area and beyond for the following tree management and tree removal services: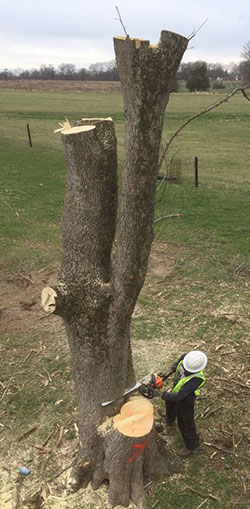 Shaping, pruning and tree trimming services: We are pleased to assist in standard tree and hedge maintenance tasks, including shaping, tree pruning and trimming. We accomplish this in a variety of manners, including climbing up trees, as well as using cherry pickers or cranes to reach heights our climbers cannot get to. The goal is to provide you with a great look for the whole tree, not just the portions you can easily reach.
Storm damage: Big storms can wreak havoc on trees. If your trees have been damaged or knocked over, our team comes onto the scene to either haul away the fallen tree or to perform any tasks necessary to save what is left of your tree, including emergency tree pruning and trimming.
Stump grinding: Stumps that are left in place after tree removal services will ultimately start to rot, or at least become a safety hazard. Our team comes to your property to grind up any stumps you have and remove them, roots and all.
Tree injection: Rather than spraying pesticides, consider injecting formulas directly into trees. Not only is it more effective, but it is also more environmentally friendly to keep your trees healthy for many years to come. These services are best performed by professionals.
In addition to these services, we are also pleased to take on any hazardous jobs, or any other related tree service jobs including debris removal, Bobcat work or anything else you need to keep your trees and your property looking great.
Additional Services:
Bucket work
Bobcat work
Crane work
Hauling
Hazardous work
Debris removal
Free tree analysis and diagnostic
For more information about these services, contact our tree stump removal service in Bowling Green, KY today at 270-842-2222.
---